SINGAPORE INVESTORS LOOK FORWARD TO INVESTMENT OPPORTUNITIES IN MINH HUNG SIKICO INDUSTRIAL PARK
16/07/2022
On July 5, Binh Phuoc Provincial People's Committee held an investment promotion conference for partners and businesses from Singapore. The event is an opportunity for Binh Phuoc to promote and invite Singaporean firms and investors to learn about the business environment and cooperation opportunities in Binh Phuoc Province.
The Minh Hung Sikico Industrial park's exhibition booth at the conference attracted many businesses to visit and learn. In particular, the booth was honored to welcome the Chairman of the Provincial People's Committee - Ms. Tran Tue Hien, and the head of Binh Phuoc Economic Zone Authority - Mr. Nguyen Minh Chien, to visit.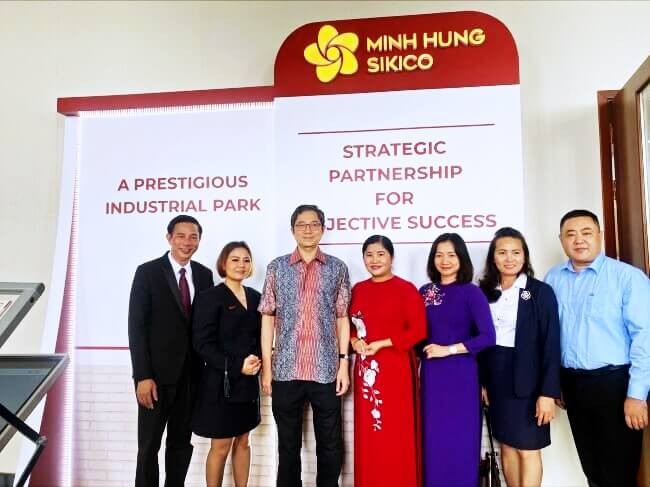 Chairman of the Provincial People's Committee, Ms. Tran Tue Hien (red dress), visited the booth of Minh Hung Sikico Industrial Park.
After finding out information at the booth, in the afternoon of the same day, many businesses conducted a field survey of Minh Hung Sikico industrial park to update the information quickly.
MINH HUNG SIKICO Industrial Park has a total area of phase 1 of 655 hectares, invested by Minh Hung Industry Joint Stock Company - Sikico, located in Hon Quan district, Binh Phuoc province. Thanks to the constantly upgraded transport infrastructure system, the driving time from MINH HUNG SIKICO Industrial Park to Ho Chi Minh City is only 2 hours, and to Binh Duong only 1 hour.
With a large land fund, ready LURC of each land plot, and modern infrastructure, the most advanced wastewater treatment plant in the South with a total capacity of 25,000 m3/day-night - managed and operated by the GS E&C Korea and is ready to meet the wastewater discharged needs of the Investor, and the support of Binh Phuoc Provincial authorities; MINH HUNG SIKICO has become the perfect investment destination for many businesses in diverse industries such as paper production, packaging, wood, furniture, textiles, dyeing, hardware, food, etc.
In addition, the industrial park also scores points with investors thanks to the long-term vision of the Developer by being willing to invest large budgets in the landscape and infrastructure. When visiting the industrial park, many investors cannot help but admire the well-invested infrastructure with an extensive road system and green patches. In particular, to create the best working and relaxing environment for experts and workers in the industrial park, the Developer decided to spend 3.2ha on building a multi-functional utility area, including driving golf, tennis court, and swimming pool. The utility area is expected to be completed by December 2022.

Desiring to create an international standard investment environment, MINH HUNG SIKICO is proud to be the pioneer Developer in applying the 4.0 technology application in our management system. With the initial deployment of MH SIKICO app in industrial park operation management, Investors get updated information, receive notifications from the Developer, and have a Business page to introduce themselves and connect with the investor community in the industrial park. The automation management system will continue to be invested in and developed to be more convenient - safe - efficient for investors during their operation.
MINH HUNG SIKICO looks forward to the opportunity to meet, accompany, support, and become the most reliable & prestigious partner throughout the business process of our Investors.
Older articles
UPDATES ON SCHEDULE OF SIKICO MINH HUNG INDUSTRIAL PARK PROJECT AS OF 24/05/2021
UPDATES ON SCHEDULE OF SIKICO MINH HUNG INDUSTRIAL PARK PROJECT AS OF 24/05/2021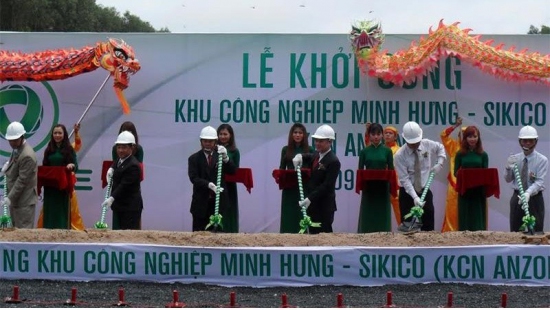 Work starts on new industrial zone in Binh Phuoc
The Hai Vuong-Sikico Group started construction on the Minh Hung Sikico...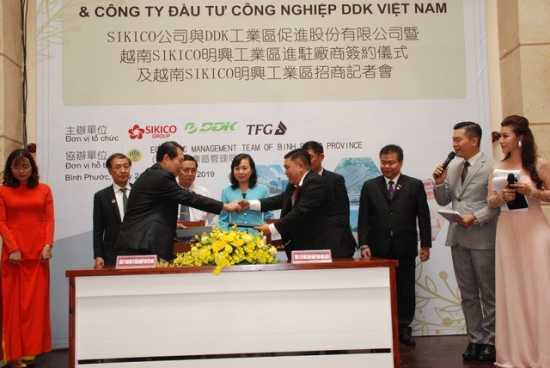 Taiwanese firms invest $30 million in Bình Phước's industrial park
DDK Vietnam and Minh Hưng Sikico Industry JSC sign a co-operation agreement on...